Get market leading rates
from banks across Europe
With Raisin.ie you get free access to attractive savings products from banks across Europe via one account. Saving at Raisin.ie is online and hassle free.
Compare zero-fee savings accounts

France
Latvia
Portugal
Latvia

France
Why Raisin.ie
Best interest rates
Together with our partner banks we work on providing you the most attractive interest rates from across Europe
Secure
Access attractive term deposits safely and securely online
Easy & convenient
Seamlessly transfer funds to our network of partner banks across Europe from the comfort of your own home
53.0 bn
EUR Assets invested
Welcome to Raisin.ie
Welcome to Raisin.ie
We give you total control of how you save your money, ensuring that you can quickly and easily see how your savings are doing.
Our free one-stop online savings solution has been designed to help you earn more money from your savings. With a range of partner banks offering deposit savings accounts with competitive rates in one place, we take the hassle out of finding the right savings account for you.
We want to make your money work harder, not you. Once you've registered for a Raisin.ie Account, you won't need to fill in another application form. Just log in, click apply, agree to the terms and conditions and transfer your deposit to your Raisin.ie Account.
It's that simple.
How does it work?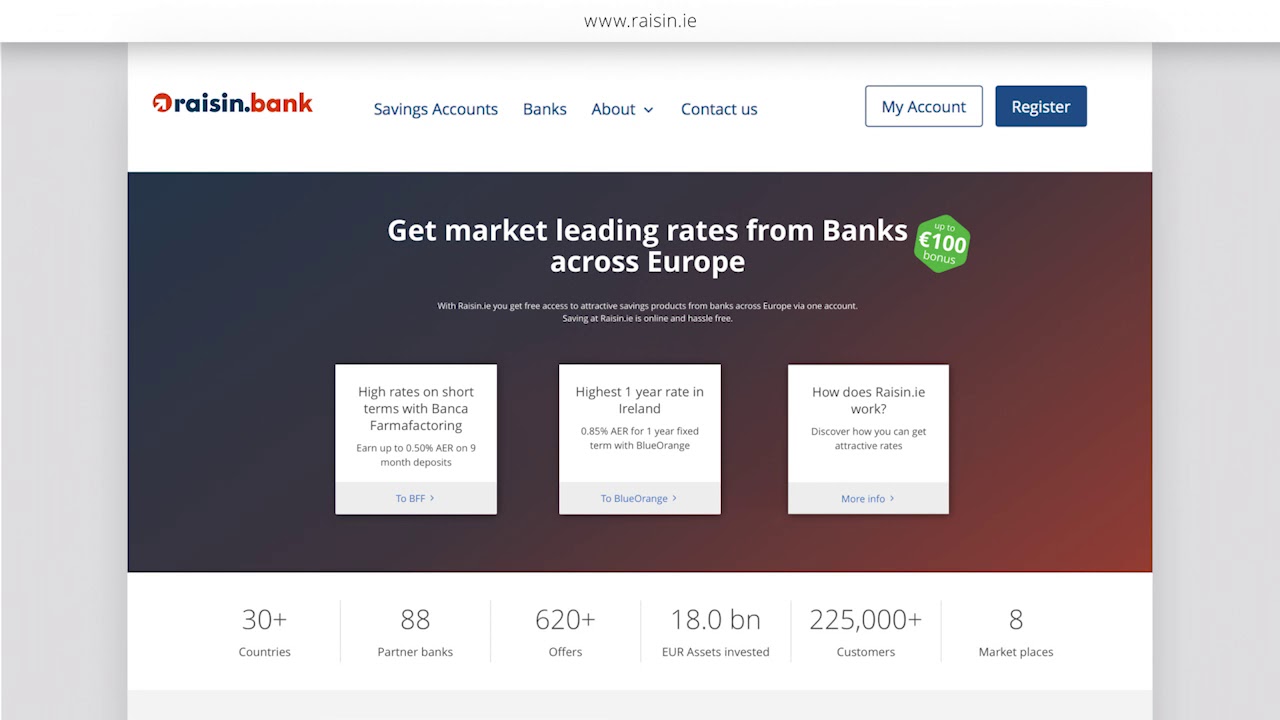 Want to know more about savings?
Subscribe to our newsletter for savings news and insights and get notified
about the latest offers at Raisin, including the following:
Be the first to hear about the latest banks and savings accounts at Raisin

Don't miss out on legendary limited availability market-leading* savings accounts

Gain insights into growing your money
Confirm email address
Open your email inbox and click the link in the email we just sent you. Please also check the spam folder.